Private Training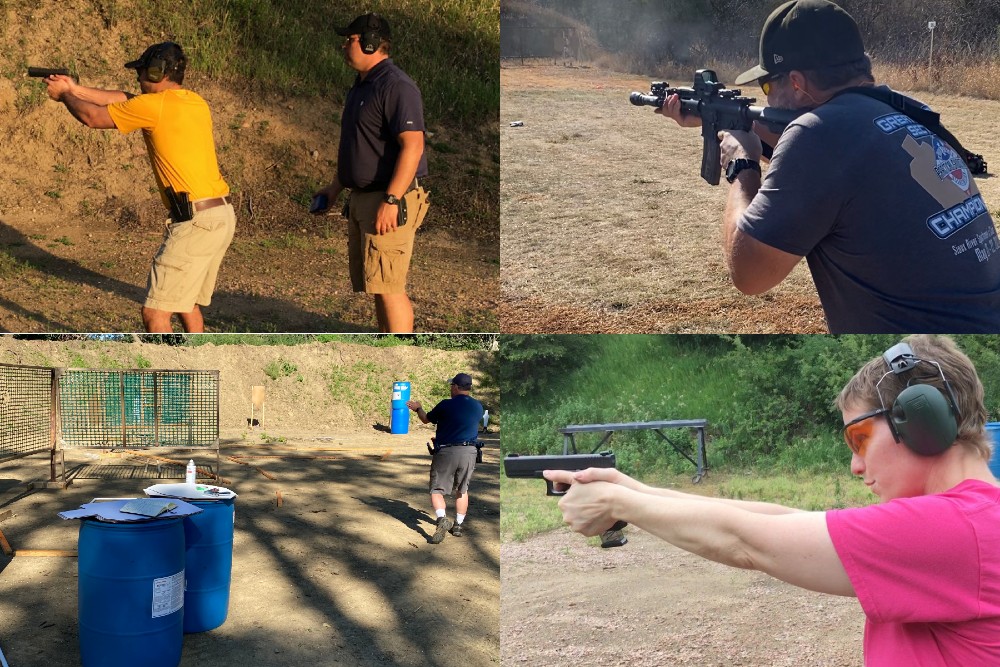 Private handgun training is available indoors or outdoors, rifle training is available outdoors only. Check out all the packages below!
If you are a new shooter and want to get comfortable with a pistol or rifle more quickly, or if you aren't new but would like to improve your shooting fundamentals, private training might be right for you. Each 2 to 4-hour session is tailored to your skill level and what you are trying to achieve.
You will be more confident with your pistol when we are done.
Things we work on in a private lesson:
-Safety
-Correct grip, stance, and trigger pull
-Best practices for operating your pistol(s)
-Dry fire practice and drills
-Live fire practice and drills
-Shooting at speed
-Shooting at multiple targets
Private lessons are also available for new shooters who do not have their own pistols yet. I can provide a variety of guns for you to shoot. I do not charge rental fees for using my pistols, but I ask that you purchase the ammunition from me.
Pricing will vary depending on your needs, sessions start at $120 for one person for two hours.
Range fees are applicable and vary depending on the facility used, but if you have access to a farm or acreage and there is a safe place to shoot, private training can be done there too! Indoor ranges used are Gary's Gun Shop and Garretson Sportsman's Club. Outdoor training is done at Sioux River Sportsmen's Club just east of Canton.
Please call or email to check availability, schedule training, or ask questions.
605-951-0477
This email address is being protected from spambots. You need JavaScript enabled to view it.
Private Training Packages
Private Lesson
One-on-one training. Good for brand-new beginners or experienced shooters who want to be better. Can be customized for whatever you want to focus on.
2 hours - $120
3 hours - $180
Training for Two
Many couples or a pair of friends have done this. A private lesson for two people catered to where each is as a shooter.
Bring your own guns and ammo - $200
Use my guns and ammo - $360
Intro to Handgun Lesson
For those who want the experience of an Intro to Handgun class but can't make the time to attend when they happen. Also great for those who would prefer to learn in a completely private setting with no one else around. This takes place entirely on the range and includes the use of guns and ammo
1-person - $200
2-people - $360
Run and Gun
If you are interested in learning about competition shooting, like USPSA or 3-gun, but don't know where to start, this is a fantastic option. You'll work on the basics of fast and accurate shooting, how to move quickly and safely with a loaded firearm through a stage, and learn basic stage strategy. You'll run several drills and practice on a full stage. These lessons are 3 hours in length and can only be done outdoors.
1 person - $200
2 people - $340